Instant Communication to your Entire Group
How to use text message marketing for churches and faith groups?
Using the Clear Track Media web-based software, messages, alerts and reminders can be sent to hundreds (or thousands) of congregation members in minutes. Send out daily prayers, prayer requests, or any short, simple messages that help congregation members integrate faith into their hectic days. MMS offers a powerful, cost-effective solution.
Get the word out to your members
Set up separate groups for the entire congregation, church leadership, youth group, etc.
Send daily or weekly prayers
Notify people of what's happening in your church
Instantly communicate last minute changes and emergency notifications
Announce food drives and volunteer opportunities
Engage your Youth Group with Text Messaging
Our web-based text messaging software allows you to reach out – directly and individually – to the youth in your community, using their most popular means of communication.
Connect with young members to engage in youth group activities
Involve parents – send updates during youth outings and events
Instantly update your whole group with event changes and cancellations
Easy to manage, free to get started.
Mobile Website  for Churches
Your members are mobile, you need a mobile website! One click for members to call you, view worship times, see list of church events. It's the quickest way to turn mobile visitors into active members.It's complete – connects you with members anytime, anyplace, anywhere. Let us put your church on member's mobile phones 24/7. It looks great on any computer and any device. We can get your mobile website created and launched quickly and can be updated anytime. It's the most effective way to engage your mobile members!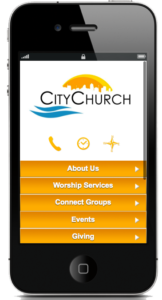 Inform church members of the location with tap-to-map and integrated GPS
Update the congregation with upcoming church activities and events
Post information about your church through content pages
Include photos and of your church activities and events
Share information through integration with social media sites
Quick donation links for mobile giving
Replay recorded parochial messages by embedding uploaded videos on the mobile website
Mobile Fundraising— Text To Donate
TEXT FACTS:
95% of texts are read within 14 minutes
High coupon redemption rate -15-30%
Texts are preferred to phone calls – 3:2
86% of people possess their phone 16 hrs/day
Email is the new snail mail!
MOBILE BENEFITS:
High sponsor value
High value impressions
Real time, accurate data collection
High impact, low-cost marketing
Geographical and demographical user info
Promote interaction through text contests and trivia
Increase event attendance
Engage your communities youth, the future of your church
Instantly reach members of your church with critical information
Keep parents involved in church activities
Collect tithes and offering–Increase Donations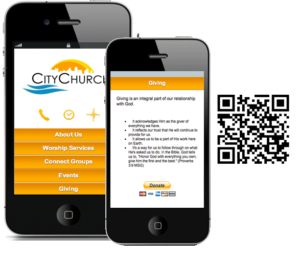 APPLICATIONS:
Youth group event reminders
Text Contests & Trivia
Event reminders, i.e. classes, food drives, fundraisers, etc
Prayer requests, inspirations messages, scripture readings, donation requests, etc.
Emergency alerts
Group notifi cations – practice times, upcoming events, etc
Text Voting & Polling with Text2Screen Live Results
Interactive Speakers
Live Surveying & Feedback